Welcome
... at the Lübeck Institute of Neurobiology!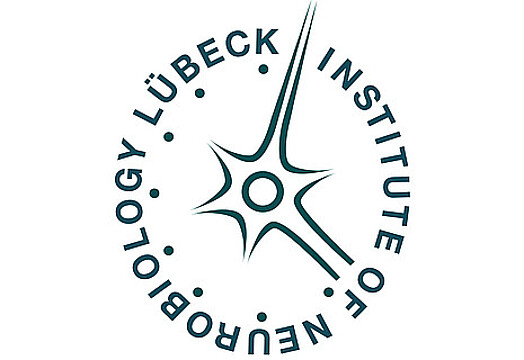 Day/Night Rhythms
The daily rotation of the Earth around its axis creates a recurring succession of day and night with a period of 24 hours. Tied to this rhythm are dramatic - but predictable - changes in environmental conditions. Genetically encoded circadian (Lat. circa diem - about a day) clocks help to optimally adapt physiology and behavior to these rhythms.
(Figure: Day/Night Terminator above Europe and Africa (c) http://livingearth.com/)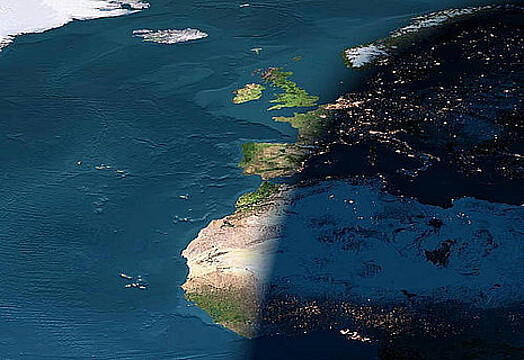 Circadian Clocks
Every cell of our body harbors its own molecular clock, that is synchronized to external time by a central pacemaker located in the suprachiasmatic nucleus (SCN). The SCN receives light information via special photoreceptors in the inner retina. The SCN clock then relays time information to peripheral clocks via neuronal, endocrine and behavioral pathways.
(Photo: Immunofluorescence in the SCN (c) Salk Institute for Biological Studies)
Molecular Rhythms
The cellular clockwork is based on a set of clock genes organized in interlocked transcriptional translational feedback loops, regulating their own activity with a rhythm of 24 hours. They further regulate hundreds of clock output genes that transmit time information into physiolgically meaningful signals.
(Figure: Transcriptome rhythms in the adrenal (c) HO)
Work Hard, Party Hard
Symposium day, May 2017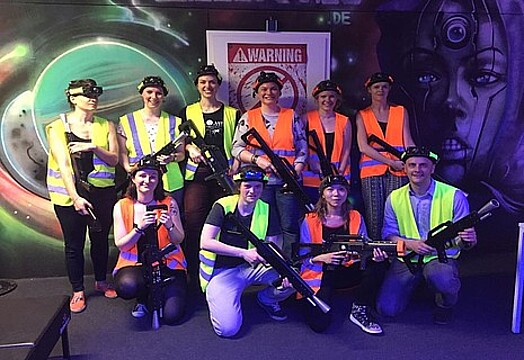 ---
Life on earth is shaped by multiple environmental cycles. One of the most influential is the succession of day and night. In most species – from prokaryotes to humans – internal timekeepers (so called circadian clocks) have evolved that anticipate these daily events and fine-tune physiology to the varying demands of activity and rest. Circadian rhythms are almost omnipresent and cover all aspects of biology from behaviour down to cell cycle control and chromatin modulation. In mammals, a master clock in the suprachiasmatic nuclei (SCN) of the hypothalamus is synchronised to geophysical time via visual and non-visual photoreceptive systems in the retina. From the SCN, time information is transmitted to numerous peripheral clocks located throughout the body.
Perturbations of the circadian system have a profound impact on health and well-being. The physiological and psychological disturbances following trans-meridian travel (jet lag) are rooted in a transient state of internal de-synchronisation while the body's clocks struggle to adapt to an abruptly shifted external light/dark cycle. Similar and more severe symptoms including metabolic dysbalance and an elevated susceptibility to cancer are the consequences of the sustained disruption of the circadian system in shift workers. Sleep and circadian rhythm disturbances affect more than one third of the Western population. Both frequently accompany neuropsychiatric disorders like depression, schizophrenia and Alzheimer's, suggesting a tight interplay between the circadian system and higher neurological functions.
Tue, 21-03-2023
CBBM Lecture "East-West, North-South and DST: Human sleep and circadian timing year-round"
by Dr. Eva Winnebeck, Lecturer in Chronobiology, Faculty of Health and Medical...
---
Tue, 27-06-2023
CBBM Lecture "Oxytocin and brain development"
by Jin Bao, PhD, Brain Cognition and Brain Disease Institute, Shen Zhen Institute of Advanced...
---
Tue, 11-07-2023
CBBM Lecture "Sleep and circadian dysfunction in Parkinson's disease: lessons from preclinical studies and future directions"
by Dr. Oliver Rawashdeh, Chronobiology & Sleep Lab, The University of Queensland, Australia
---