Isabel Heyde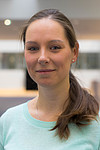 Institut für Neurobiologie

Marie-Curie-Straße
23562 Lübeck
Gebäude CBBM, 1.OG, Raum 005
| | | |
| --- | --- | --- |
| Master in Molecular Life Science | University of Lübeck | DE |
| PhD in Neurobiology | University of Lübeck | DE |
| | | |
| --- | --- | --- |
| Postdoctoral Research Associate | Unviersity of Lübeck | DE |
Since the beginning of my studies I had a broad interest in physiology and neurobiology. I'm fascinated by how the organism is working. Thereby, I'm astonished how little disruptions can have a huge impact on the functionality of the organism one the one hand and on the other hand, how large disruptions can be buffered having only minor effects on the physiology.
A few years ago, I saw a documentation on the circadian clock and this shaped my general research interest. The circadian system influences almost all aspects of the organism's physiology and therefore, is a very important factor to consider while studying molecular correlates. The circadian system strongly impacts sleep/wake cycles, and learning and memory. However, little is known about how the circadian clock gates the beneficial effects of sleep on memory formation. We want to adress this question using in vivo mouse models which will be subjected to different learning paradigms. Further, we want to utilize omics techniques to unravel the molecular corrrelates involved in these processes. This may help to find therapeutic approaches against the negative consequences of sleep disruptions on memory formation.
Our institute welcomes students from all levels to join and contribute to our research projects. You are also invited to pitch your own research idea and if posssible to join the group to conduct your project. We are also happy to collaborate with other research groups to advance the fascinating field of research. Please, do not hesitate to contact our group.